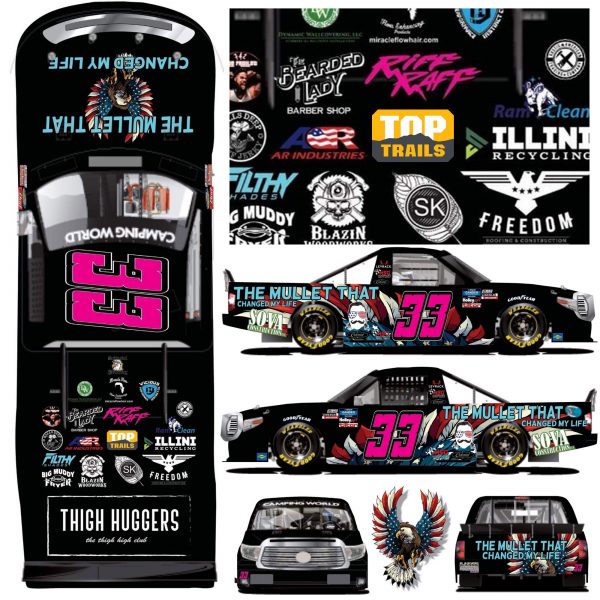 TALLADEGA, AL (September 2020) – From the mud and rocks of the off-road world to the high banks of Talladega Superspeedway in the NASCAR Truck Series, Top Trails OHV Park will be a proud sponsor of the Number 33 "The Mullet That Changed My Life" Toyota Tundra driven by Owner/Driver Josh Reaume. On Saturday, October 3rd, Reaume will compete on the 2.66-mile Talladega Superspeedway in close competition during Sugarlands Shine 250, looking to better his career-best 6th place finish scored at Daytona International Speedway last season.
The day of the race, Top Trails OHV Park will host an outdoor viewing party near Jay's Sports Grill, and an after-race party at the Concert Area behind Jay's to cheer Josh and his team to success, and celebrate with him afterward! Thigh Huggers and "The Mullet That Changed My Life" Facebook page will be handling the planning and logistics for both parties. Their page members that contributed to the truck title-sponsorship for the race will enjoy special access, pricing, and free camping during the weekend at Top Trails.
Originally slated to be driven by Keith McGee at Talladega, the NASCAR Truck team caught our attention as the first-ever NASCAR Truck to be title-sponsored by a Facebook Group. "The Mullet That Changed My Life" is a lifestyle page of over 50k members who banded together to make the dream of racing at the Talladega Superspeedway a reality.
The viewing party and after-race party are both open to the public at Top Trails. Come out Saturday and ride, watch the race, and hang with NASCAR driver Keith McGee and maybe even catch a peek at the Number 33 "The Mullet That Changed My Life" NASCAR Truck after it finishes the Surgarlands Shine 250!
Book camping reservations from October 1st – October 4th at www.toptrails.net.
ABOUT TOP TRAILS: Opened in 2012, Top Trails OHV Park has quickly become one of the fastest-growing Side-by-Side, ATV, and off-road motorcycle parks in the country. With over 100 miles of off-road trails, the Park each year attracts more than 35,000 visitors. It continues to provide the best off-road riding experience in the Southeast with "year-round mud" and its ever-expanding amenities list. Since 2018 Top Trails has hosted multiple charity events annually, raising more than $40,000 for charitable causes. The Park is committed to serving its customers, local communities, and off-road enthusiasts from all walks.
LEARN MORE AT:
https://toptrails.net
@toptrails_park (Instagram)
@toptrailspark (Facebook)
https://www.facebook.com/groups/mulletup
#MulletUp
https://thighhuggers.com/
@thigh_huggers (Instagram)