Park Hours
The park will be closed on Mondays, Tuesdays and Wednesdays. Check Facebook for up to date holiday hours.
TOP Trails Park is Open:
Wednesday: 8 a.m. – Midnight
Thursday: 8 a.m. – Open All Night
Friday: Open 24 Hours
Saturday: Open 24 Hours
Sunday: Park closes at 5 p.m.
No entry to the park after 3 p.m. on Sunday.
The park closes at 5 p.m. sharp on Sundays.
Visitors are required to exit the park before the gates are closed.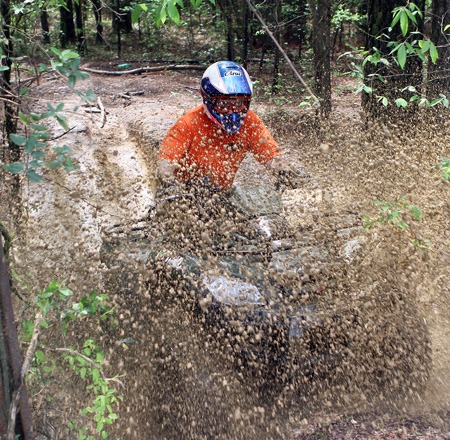 Rules and Regluations
Welcome to Top Trails OHV Park. Trail systems are currently designed for Off-Highway Vehicles including ATVs, Dirt Bikes and Side-by-Sides and some Suzuki Samaria and Geo Tracker type vehicles. Jeeps and trucks are not permitted for use on the trails at this time.
Admission Rules
All park visitors must wear admission wristbands that are for sale at the Welcome Center.

All guests, both adults and minors, must sign a waiver. Go to www.toptrails.net and click on "Sign Our Waiver" link. Rules and regulations are posted there as well and available at the park. Those under 19 must have a parent/legal guardian with them AT ALL TIMES while on Top Trails park property.

All guests must have their ID with them when checking in. Top Trails staff can check the ID of any person for any reason and failure to provide your ID will result in non-admittance to the park.

All guests under the age of 21 will receive a special colored wristband.

All guests under the age of 21 will be subject to random cooler checks.

All vehicles and trailers are subject to random inspections at any time while on the Top Trails property.
Vehicle Operation Rules
Speed limit on all roads is 15 MPH.

Operating a vehicle carelessly, recklessly or in a manner that endangers any person or property is prohibited. Operator will be subject to ejection from park by Top Trails Security or Management.

To reduce wear and tear on our trails and improve the riding experience for all visitors, the tire size for all vehicles must be UNDER 36 inches in height (as originally indicated on the tire sidewall). OHVs with tires 36 inches or taller will not be allowed to enter the park.

Obey all signs and barriers. Stay on trails and within park boundaries. Tread Lightly.

Helmets required for riders of 4-wheelers and motorcycles. Helmets recommended for riders in side-by-sides. Seat belts or safety harnesses must be worn in side-by-sides.

No doubling on 4 wheelers not designed for doubling. Passengers in side-by-sides must ride in seats. No passengers in cargo areas.

Trails close at midnight on Thursday nights, with the exception of event weekends.
Camping and Campground Rules
Campground quiet time is from 11pm – 6am STRICTLY ENFORCED.

Please contain campfires in ring made of rock or other nonflammable material. Put all fires out before leaving. Do not burn pallets.

Maximum 2 passenger vehicles per campsite STRICTLY ENFORCED. Do not block other campsites with your vehicles.

All vehicles in Camping Area must have their camping pass visibly displayed at all times or you will be towed.

Up to two (2) tents placed in addition to campers on full hookup sites are available ONLY with prior approval from management, and will incur a $20 per night fee per tent.
General Park Rules
Do not litter. Please put trash in containers provided.

Damage, Loss, Theft, Injury – Top Trails Outdoor Park/Public Park Authority of the cities of Lincoln and Talladega are neither liable nor responsible for damage, loss, or theft of personal property or for injury to guests.

No alcoholic beverages allowed. No glass bottles of any kind.

No firearms or fireworks allowed on the property.

Commercial filming or photography at Top Trails park is expressly forbidden without prior written approval from Top Trails.

Top Trails retains the right to eject violators of these rules and regulations without refund. Repeat offenders may be banned from Top Trails indefinitely.
Additional Daily Pass Information:
Children ages 7 – 11 $5.00 each
Children ages 6 and under – FREE
For Family Membership rates all members must live in same household
Additional Annual Membership Information:
Each Additional Family Member 19 and older $100.00 (total of 2 can be added)
Children ages 12 to 18 $75.00 each
Children ages 6 to 11 $50.00 each
For Family Membership rates all members must live in same household
Camping and Bunker Rentals
Additional Campground Rental Information:
Model Trailer 2 night minimum for all weekends – $95-$145 per night.
Two (2) night minimum for Full Hookup Sites on event weekends.
Occupancy for Trailers is 4 guests. A charge of $5 per guest per night will be added for parties of more than 4 people.
Occupancy for Full Hookup Sites is 6 campers. A charge of $5 per camper per night will be added for parties of more than 6 people.
EVENT RATES APPLY FOR THE DATES LISTED BELOW, BE SURE TO CHECK YOUR TOTAL PURCHASE PRIOR TO CHECKOUT.
March 18 – 21st
Kam's Ride for Autism Awareness
Full Hookups ($50/night)
Bunkers ($20/night)
Primitive Camping Areas – ($10/night) View Map
April 29th – May 2nd
Spring Mud jam
Full Hookups ($60/night)
Bunkers ($25/night)
Primitive Camping Areas – (FREE) View Map
Camping and Cabin Trailers Policy:
All camping reservations must be made online and require a credit card for deposit or payment in full to book any campsite or trailer.
Refunds will NOT be given for cancellations within 7 days of reservation – call the office or message us on Facebook to cancel.
NO Refunds will be given for event weekend bookings.
Check-in begins at 8:00 am, Check-out is 9:00 am.
Additional Model Trailer Information:
Trailers Include:
Coffee pot
Electric range
Microwave
Refrigerator
Oven
What you will need to bring:
Sheets (full size)
Pillows and pillows cases
Wash rags and towels
Cookware – pots, pans
Dishware, silverware